A memorial is more than a monument or a headstone. A memorial is a permanent tribute to those we love. It is a way for future generations to reflect on someone's life, regardless if their memorial is dedicated in the cemetery or in a public area.
Restlawn is primarily a "flat" memorial cemetery, with one section set aside for upright monuments. Memorial benches may be placed where allowed, provided there is already a flat memorial in place. Flat memorials can be laid in either bronze on granite or granite. Our staff is fully trained to know exactly what the requirements are in each individual case, and to help you create a tribute with personal meaning, capture a special memory or even design a simple memorial.
Restlawn is the area's only factory-direct, full service Memorial Company offering our families options in either bronze or granite. The internet, "brick and mortar" storefront monument dealers and funeral homes do not offer the service, quality material and workmanship that you will receive from us.
Our cemetery has assumed the responsibility of caring for your loved one's grave. It is only natural that you should place your memorial or bench under the same care and attention. We can also place memorials in other cemeteries.
A bronze marker is placed flat on the ground. The bronze is most commonly engraved with a person's full name, date of birth, and date of death. Most markers also have a unique frame on the outer edges, along with a personal notation or prayer. The bronze is attached to a granite base, and that base is placed into the ground. Bronze and granite bases come in a variety of colors and multiple fonts are available.
A granite maker lies flat on the ground. The most common granite markers display a person's full name, a person's date of birth, a person's date of death, and a small notation dedicated to the person. Other custom images are often times added to the marker. Several different granite colors exist, and many fonts are available.
Granite upright memorials stand vertically at different lengths. Different sizes are available to memorialize an individual or entire family. An individual's name, date of birth, and date of death are almost always engraved on these granite memorials. Most individuals also add personal notations, portraits and images to be engraved on the stone. Several different granite colors exist and many fonts are available.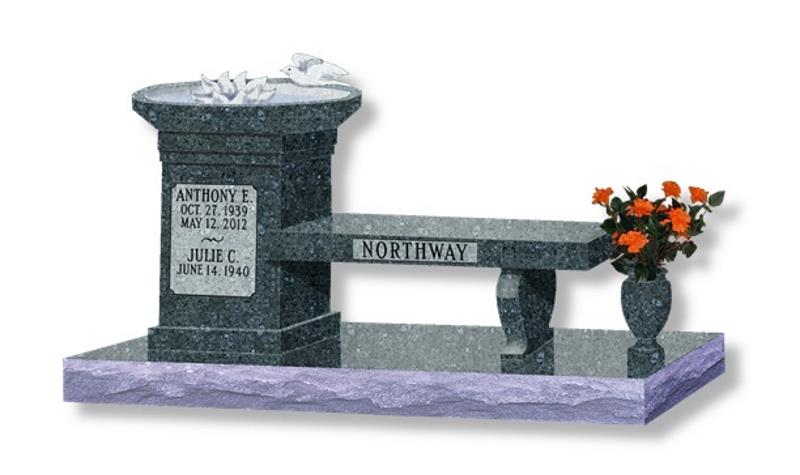 A granite bench is a beautiful way to memorialize a loved one. We have many different styles for standard memorialization or benches that hold cremated remains.
Mausoleum – Personal Estate
A mausoleum is a free standing granite building constructed as a monument. This monument serves as a chamber for a deceased person or persons. Each mausoleum has its own unique build and are available in an array of granite colors.
Columbariums are uniquely constructed buildings compromised of cremation niches. These niches serve as a respectful area to place urns and cremated remains. A columbarium may be a freestanding unit for a family, or it may be apart of another building; in either case, columbarium's can be found in both indoor and outdoor settings.
A cremation garden is an area where cremated remains can rest in beautiful landscape. Individuals have the option to personalize an area within the garden to help make a cremated resting place more unique and special.
We offer decorations throughout the year. Beautiful silk floral bouquets are available in a variety of flowers, sizes and prices. Flowers can be placed in vases May 1st through October 31st.
Artificial and fresh winter decorations are also available. We offer fresh cut wreaths and grave blankets for outdoor gravesites and artificial wreaths for indoor mausoleum crypt decoration. All of these items are available through our office and annual mailer, or by visiting our online store.